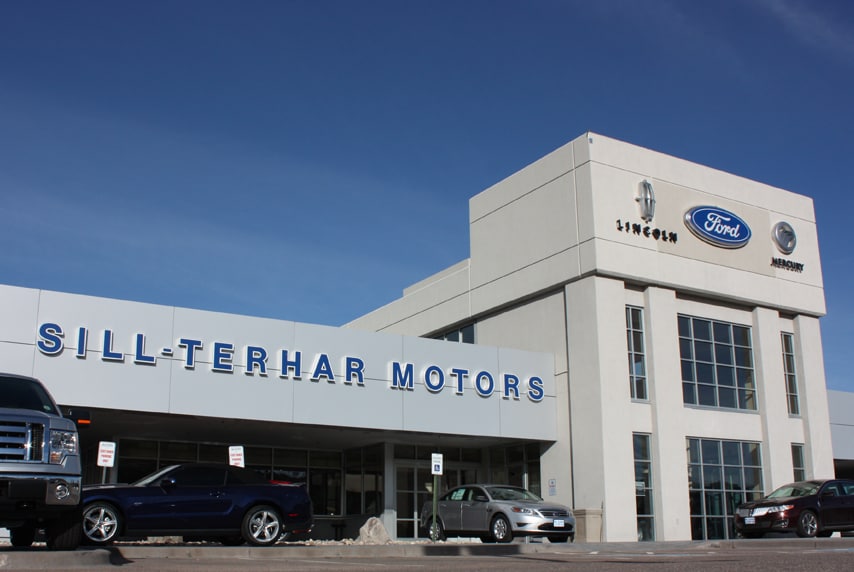 Serving the Broomfileld area, Sill-TerHar Motors, located at 150 Alter St in Broomfileld, CO, is your premier retailer of new and used Ford vehicles. Our dedicated sales staff and top-trained technicians are here to make your auto shopping experience fun, easy and financially advantageous. Please utilize our various online resources and allow our excellent network of people to put you in your ideal car, truck or SUV today!
Sill-TerHar has been in business for over 45 years and we have been located in Broomfield since the beginning. The dealership was opened by Hugo Sill and Jack TerHar, Sr. in 1960 when Highway 287 was a two-lane dirt road, and 120th was the major throughway to Denver. In 2001 we began our growth to what we are today. Our first new building was our Ford service center, shortly there after we built our beautiful Ford showroom. In November 2002 we completed our Premier Automotive Group building which now houses Aston Martin, Volvo, Jaguar and our luxury pre-owned vehicles. We now cover 3 acres, have 4 building with 6 showrooms, so that we can offer great selection. We enjoy being a small family owned dealership because it affords us the luxury of treating our customers as friends instead of profits.
We try our best to create a friendly atmosphere and work very hard to keep our sales people and managers with us so that you'll see the same faces every time you're in. We also do our best to not make you feel pressured, occasionally that may mean that you're on the lot by yourself, but we feel that it's better to let you look a bit before you're approached, and we always have people in our showrooms ready to answer your questions and help you out.
Sill-TerHar prides itself on being dedicated to customer service, while offering competitive pricing and a great and varied selection. We recently won our Twelfth President's Award from Ford for excellence in customer service, more than almost any other dealer in the nation.
Our Volvo and Jaguar service departments consistently rank among the top in the nation in customer satisfaction and we pride ourselves on meeting problems head-on and rectifying them as quickly and professionally as possible.
We hope that you give us a chance to win your business, or if we already have, that you let us know if there's anything else we can do for you. If you see our badge on the back of someone's vehicle, ask them, they'll tell you why we're better.